Sexological Bodywork Training 2015
Váňa´s farm- Embodiment Intensive, 2015
"I feel a huge change after the training.
My perception is wider now, I am much more in my body, for example I wake up several times during the night and feel my hands and legs tingling, I enjoy every bite that I eat, every touch I give or get is a celebration of life for me. CET (The Central Erotic Theme) I have found and adopted means an enormous change in my approach to myself. And we have a totally different dimension of honeymoon with my wife! My "rescue" brake was released by the training."
Josef, SB student 2015
"It was amazing and inspiring. Don´t hesitate and go for it!
For yourself, or for others, too.
Silvia Henniger, SB student 2015
This year´s Sexological Bodywork 2015 training started with these amazing koláče (kolach-traditional Czech sweet cake)..Thanks to the wife of one of our student Michal Seifert!! They were delicious, and were over very quickly...;o)
Then we proceeded with the traditional welcome ritual, where the soil from all the homes of our students along with all the SB student´s soil all over the world (this ritual is beeing done at all the Sb trainings all over the world and is being brought here by Joseph Kramer) was melt. 
Many Thanks to all friends, families, husbands and wifes who support their loved ones so they could come here, study and grow....to bring more joy not only to their personal lives, but also to lives of their families, clients, current or future ones....
Each participant brings along a little bit of soil from his home for the welcome ritual.... and all the students are taking a little bit of the mixed soil back home...packiging of the soil for the student to take it home...
"What I expected from the training before I went there was to grow professionally but also to grow as a person, to learn how to respect and honor myself and to become a "woman".  I wasn´t sure if all this is possible.. The first days of the training were like a rollercoaster.. Up, down… Then something started to change. Every day I made a small step forward. I started to break down my barriers.. And to open my heart.. My body.. And when I was leaving yesterday, in the bus I felt, that I am breathing to my full lungs, my breath is not shallow anymore… Despite of the fact I was so very tired I found myself smiling.. Just so.. Without any reason... I felt the change that occurred with me actually… I would never suppose the change to be so "visible"!
Today, after the first massage I gave after the training, my client who comes to me for massage regularly for one year already, saw "the new Adriana" just at the door while he was greeting me. He saw a self-confident, shining woman and also the massage was different, as he said. He could feel my openness and confidence…
THANK YOU, THANK YOU, THANK YOU!!!
With love
Adriana, SB student 2015
Faculties and coaches of this year´s training.
Wonderful memory- signature from Joseph Kramer beneath the massage table....such a blessing by the founder of the profession...do you want it as well? Joseph Kramer will take part in this year´s training- 2016 again...you can join us here...
I have just passed another module of the wonderful SEXOLOGICAL BODYWORK training. It is quite a new profession in the Czech Republic, which brings fast and effective changes to the people...and not only in the area of sexuality, intimity or relationships, but in the whole  life. 
I wanted to study it, because I wanted to pay attention to the areas of my life, where I feel good and wanted them to be more in my life. I wanted to change the areas where I do not feel so good. I also wanted to pay attention to Who I am, What I can do and Whom I love....
I have changed a lot of things in my life within the last year....they are much much better...;o) and the sexological bodywork helped me a lot with that....the changes were faster and deeper. I can feel there is much more of the wonderful journey in front of me, but even now I feel more joy, ease, bliss....happiness.
Many Thanks to Joseph Kramer, Denisa Říha Palečková and Richard Vojík...
Sexological Bodywork Training 2014
"I wish to bring people more love and freedom through bodywork."  With these words Joseph Kramer, the founder of Sexological Bodywork proffession opened already 3rd international training SB on Slapy.
And this is how we were saying Good-bye 8 hours ago... Shining, imbedded, with heart opened and readiness to carry this quality on... Thanks to Joseph for bringing this work to the world and for helping to develop trainings all over the world, and for co-couching the trainings in the Czech Republic.
Thanks to assistants for their amazing support.
Thanks to all interpreters and translators.
Thanks to all who were helping and still are helping to build up this training and proffession.
"The biggest freedom we have is where to place our attention." With these words Joseph Kramer opened the 3rd international training in Sexological Bodywork in the Czech Republic. And also: "If someone does not know how to pay attention they don`t know how to love." You can look forward another load of certificated bodyworkers :-)))
Everyday´s dinner of coaches with Joseph.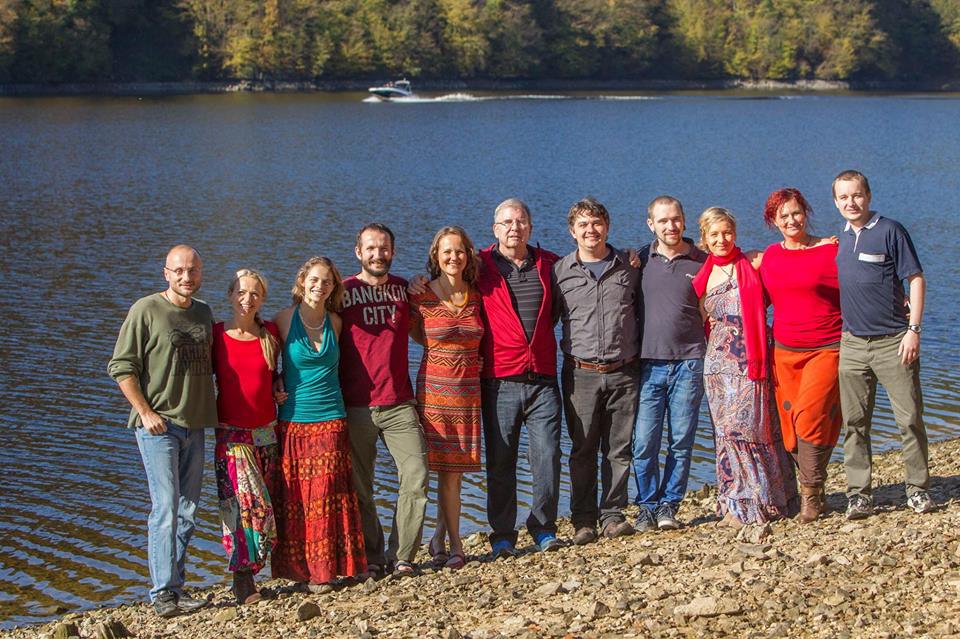 Our team of excellent couches.
Our experience is that we can proceed much faster and further in the training if the students are prepared and bodywork and intimacy is not something very new for them. Therefore we require a specific level of knowledge in this field by each participant.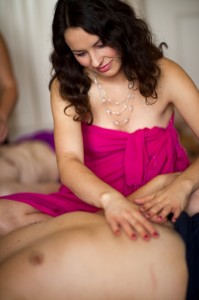 "Thank you for bringing life and freedom to the world." With these words we said Good-bye to Joseph at the end of the training."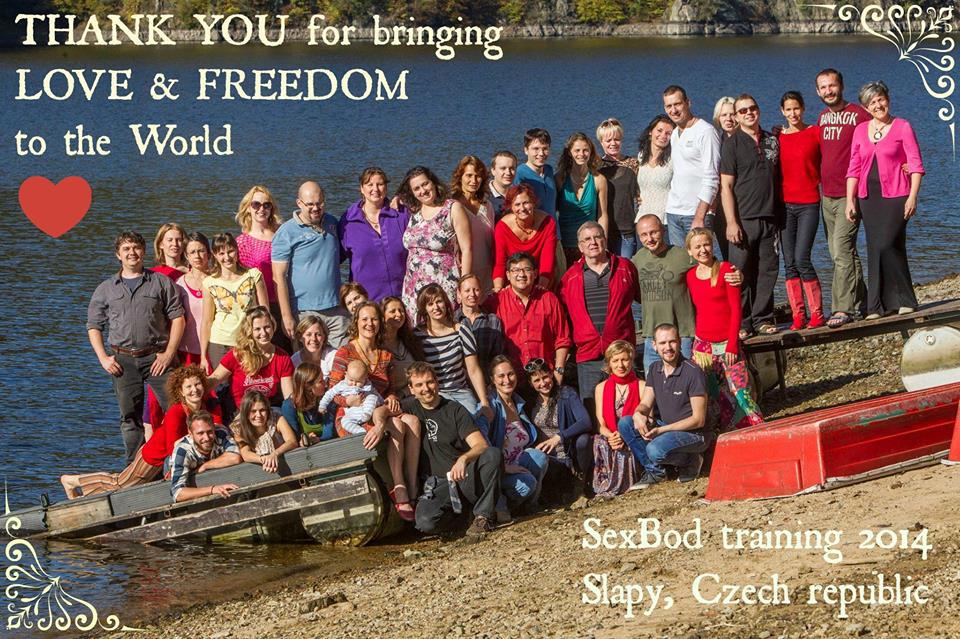 The training was held also outside...
Interview with Joseph Kramer during training in 2014 about how it all started. How was this profession developed and what all is included in it. What is a difference between sexologist and sexological bodyworker?
"The last dinner".....;o))
The youngest participant of the training (Pedro Říha), and the oldest one. 🙂
Denisa with her husband Pavel.

Sexological Bodywork training in 2013 was held already
in both languages, English and Czech.
Denisa Palečková and Richard Vojík introducing the Sexological Bodywork training.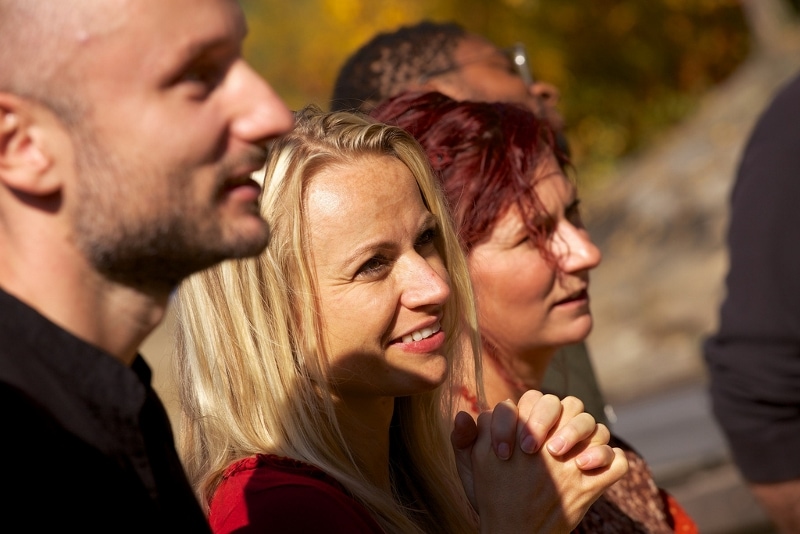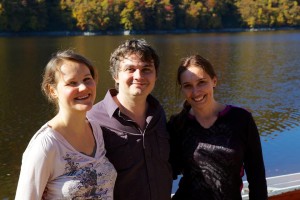 Pictures from the church Wat Pho in Bangkok (picture was taken in January 2013) – a "cradle" of the thousand years old thai massage.
Many of pictures on the wall show important acupressure points of man and woman.
I am not surprised at all how many are they in the "intimate parts", which were gradually banished from the classical massage.
Fortunately today we already have Sexological Bodywork, and thanks to this holistic work with human body people are able to renew very quickly the essential source of their life power, enjoyment and freedom... 🙂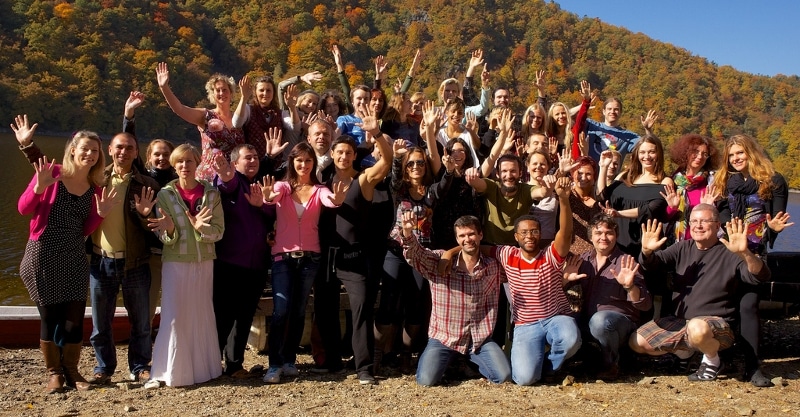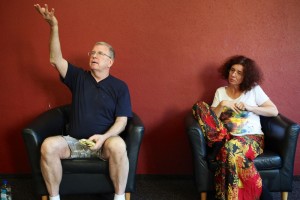 Joseph´s explanation with interpreter Stella.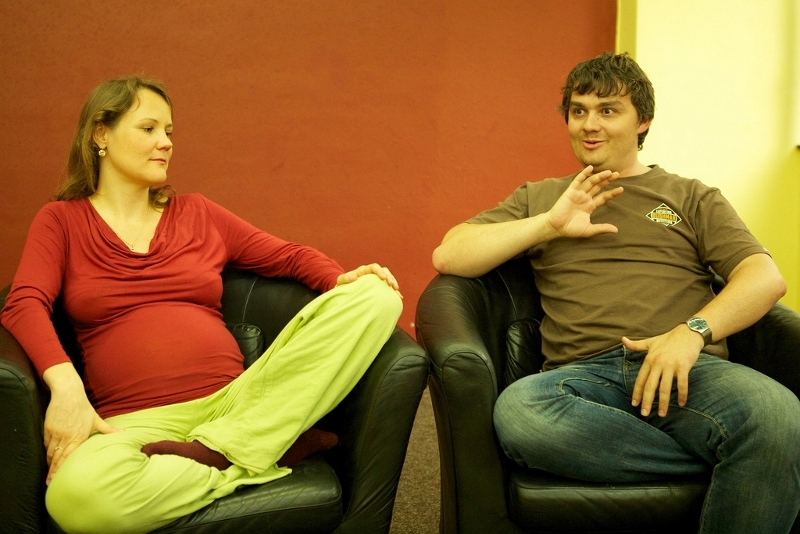 Denisa awaiting a baby :-). Little Pedro Říha is growing in there for already 5 months 🙂
Comments of participants 2013 and invitation for 2014.
Sexological bodywork training in 2012
first in the Czech Republic
only for English speakers at that time
SB training for the first time in the Czech Republic.
The founder of this proffession Joseph Kramer with Denisa – at that time only Palečková – and Richard Vojík
Interview of Denisa Palečková with Joseph Kramer about SB proffession... for the first time also in the Czech Republic.
The students of Sexological Bodywork training were looking forward to the intensive training on Slapy after the first part – online study. After this second part of the training there is third - practical part where students provide supervised sessions with pairs, individuals and groups.
Mgr. Denisa Palečková, CSB & Ing. Richard Vojík, CSB
They bring a whole new persective of intimacy as well as methods for using it to bring about benefits in health, happiness, partnerships and personal development. Since 2002 their courses, lectures and articles have helped thousands of people to live more joyful and fulfilled lives. They are known chiefly as the creators of the holistic sensual massage that has quickly become popular under the name of tantric massage.
They have opened the Tantra Spa Prague massage and personal development centre. Together with Dr. Joseph Kramer PhD, they brought Sexological Bodywork to the Czech Republic, and have had exceptional results in somatic education and healing.
In 2013, they founded the European Academy of Somatic Education – EASE, whose aim is to make available the benefits of bodywork to the general public and to provide the certification of professionals. They are the authors of the Art of Touch educational DVD about holistic sensual massage.