1st January 2017 - 23rd July 2017
Sexological Bodywork Training is an advanced training in working with human sexuality and is designed for those who already have extensive experience of working with body, massage and human sexuality. If you have not gone through similar training, it is important to first undergo a 10-day training of School of Holistic Sensual Massage held from 11th to 20th November, 2016, which itself represents a good quality vocational education and at the same time is a profound journey of personal growth and transformation. 
We accept students to the Sexological Bodywork Training on a selective basis. Those interested in this training, please contact Denisa Říha Palečková directly on paleckova.denisa@gmail.com. Denisa can also advise you with the most suitable step for now.
Faculties: Joseph Kramer, Ph.D., Denisa Říha Palečková, CSB a Richard Vojík, CSB
Become the real master in human´s sexuality.
Take part in a unique somatic training
SEXOLOGICAL BODYWORK.
EASE – European academy of somatic education is offering a professional certified training Sexological bodywork in the Czech Republic. The training covers everything you can get at the Californian training plus much more. The founder of the Sexological bodywork as a profession- Joseph Kramer, Ph.D. will take part in the Czech training in the year 2017. 
Interviews with founder of the Sexological bodywork as a profession - Joseph Kramer.
Somatic training – Sexological bodywork offers unique opportunities for the education thanks to the direct experience. The participants will learn a huge variety of possibilities of this new profession, which is officially certified in the USA, California.
Participants learn a variety of Sexological Bodywork modalities, including male and female genital massage, sensate focus, anal massage, pelvic release work, breath work, and masturbation coaching. Furthermore, participants experience how humans learn sex—through mindful, self-directed practice over time. This course will prepare practitioners to teach somatic sex education to individuals, couples and groups.
This Sexological Bodywork training makes use of online learning, phone conferences, home erotic practice sessions, video demonstrations, supervised practicum, and communal erotic practice. During the residential Intensive, participants and instructors gather to hone erotic skills, to explore communal erotic trance states, and to connect with their colleagues in the new profession of Sexological Bodywork.
The erotic education in this course is communal: we learn from each other and with each other. This training welcomes diversity in sexual preference, gender, and age.
This course is taught both in Czech and English.
Váňův statek - Váňa´s farm - Residential Intensive 2015, Module II
2. WHAT YOU WILL LEARN
WITHIN THE TRAINING
male and female genital massage, sensate focus, anal massage, pelvic release, breath work, and masturbation coaching
somatic learning theory, which teaches that the most profound sexual education is found through self-directed mindful practice over time. Using this yoga model of education, students learn to be a resource and guide for others' erotic practice sessions
to use a variety of media in their teaching, including sex education DVDs, online streaming video, group distance learning, and telephone conference calls
use touch, breath, and focused attention to become familiar with, articulate about, and competent in the uses of profound ecstatic and erotic states. Students develop a beginning competence in masturbation coaching based on the principles of Authentic Movement
using Silvan Tomkins' affect theory, students learn body-based interventions to deal with sexual shame in themselves and in others. Using Donald Mosher's depth of sexual involvement theory, students learn to assist others in achieving profound levels of sexual intimacy
elements of erotic spirituality through participation in erotic rituals and by including elements from Tantric, Taoist and Native American traditions in their practice sessions
to adjust their teaching and encourage feedback when working with individuals who carry sexual trauma
when to offer referrals to doctors, psychotherapists and other health care professionals
experience and understand the communal nature of embodiment and sexuality, making use of their relationships with others in their learning
to assess embodiment and mindfulness as indicators of sexual health and well-being
the basics of beginning a successful Sexological Bodywork practice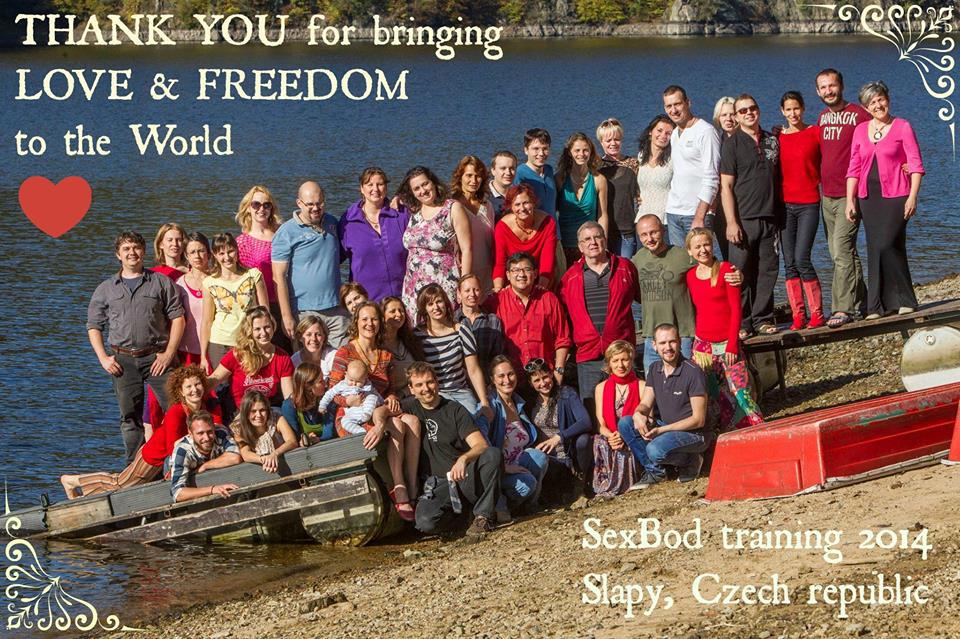 Students from the year 2014 used the words of Joseph Kramer- he started the course with them- they have printed the picture of all of them and gave it to Joseph...
3. COURSE STRUCTURE
and PREREQUISITES FOR ENROLLMENT
Students participate in eleven weeks of home study before attending a ten-day residential Intensive, which is followed by four more weeks of home study and integration.
Finally, students are supervised for twenty- five sessions with individuals and small groups.
Upon completion of all requirements, students will receive an internationally acknowledged Certificate in Sexological Bodywork.
Váňův statek - Váňa´s farm - Residential Intensive 2015, Module II
Prerequisites for enrollment
The basic prerequisite for this training is a heartfelt commitment to serve others.
This training was designed to build on the experience of individuals who are already working as bodyworkers, sex educators, yoga instructors, psychotherapists, or health care providers.
Enrollment in this training requires educated hands. Students must be competent, experienced, and confident in their ability to give massage.
The basic requirement for attending the Embodiment Intensive is to take part in the 10 days – The School of sensual holistic massage.  You will learn both theoretically and practically:
male and female genital massage
anal massage
pelvic floor and prostate massage
oil body massage
Non-obligatory but welcome is also any experience with interviewing, coaching and various types of therapies.
The School of sensual holistic massage teaches methods and techniques of massage of body and intimate parts, giving thus participants the transforming experience of partaking in an environment with higher energy levels, comfort and natural attitude to body and intimacy (both their own and of their clients) and other moments essential for personal and professional growth.
We have learned that the SB training can go much faster and deeper when the students are ready and have already experience with working with body and intimacy, which is the main reason why we require certain level of expertise already in our applicants.
Applicants who have not attended our courses, will be accepted only on the basis of an interview with Denisa and Richard. Thus we will be able to evaluate their level of readiness and, if necessary, to recommend relevant steps that should be taken as a preparation.
Students must have a high-speed internet connection in order to access the group discussions, the video demonstrations, and other course materials.
SB training 2017 dates:
Module I - Online Group Study, Part I: 1st January 2017 - 2nd April 2017
Module II - Embodiment Intensive (Váňův statek): 13th April 2017 - 23rd April 2017
Module III - Supervised Teaching : 24th April 2017 - 23rd July 2017- 25 sessions and classes. Students complete twenty - five sessions of Sexological Bodywork with individuals, couples and small groups
Module I - Online Group Study - 1st January 2017 - 2nd April 2017
Somatic Sex Education is an area of study full of new ideas. The required readings and viewings are foundational for the learning in this training. Students are required to write short reports about each reading and film which will be posted in an online forum.
The most profound embodied learning in the Sexological Bodywork training takes place at home during erotic practice sessions. Mindful somatic practice over time is the core of the home study program. Online video demonstrations and important sexological readings provide a survey of the new field of somatic sexology with an emphasis on erotic massage, masturbation coaching, anal pleasure, erotic yoga, and sexual health. Each student reports to the group once or twice a week about his or her erotic practice and learning.
A private forum at The New School of Erotic Touch (www.eroticmassage.com) facilitates the sharing of homework assignments, while providing a place for online discussions and communications with the instructors.
An online home-study workbook directs practice sessions, course readings and video viewing. Students should allocate ten to fifteen hours each week for the home study program. Students are encouraged to divide their home schooling evenly between erotic practice sessions and study of video and texts. Students who have not completed the home study requirements cannot attend the 10-day Embodiment Intensive.
Module II- Embodiment Intensive - 13th April 2017 - 23rd April 2017
After weeks of group online learning, students and faculty come together in the flesh to practice communally. The ten days of the Intensive include instruction and practice in self-massage, movement, sensate focus, erotic massage, breath work, and masturbation coaching. Special emphasis is placed on learning to work with others as a sexual yoga instructor, guiding their erotic practice sessions and, whenever possible, empowering them to direct their own somatic learning. Every person touches and coaches every other person in the training.
During the Intensive, students deepen the erotic practice begun in the home study.
The following modalities are emphasized:
This form of sex coaching involves taking on the role of erotic trainer or sexual yoga instructor. Participants help others to overcome shame and erotic sensory-motor amnesia, allowing both personal and communal erotic embodiment. Rather than offer teaching, students facilitate learning and erotic mindfulness in others.
Breathing is a foundational tool of Sexological Bodywork. Several different breathing methods are taught. Students learn to help others expand their capacity for sexual excitement and erotic joy through breathing.
Based on Authentic Movement, masturbation coaching is an astonishingly effective means to assist others to break free of limiting habits and to go deep into erotic experience. The major technique in masturbation coaching is witnessing and being witnessed. Students give and receive individual coaching sessions as well as participate in and facilitate group coaching structures, such as erotic trance dancing. Students learn ways to make use of video feedback in working with others. The motto of masturbation coaching is: "Change the way you masturbate, change your life."
Through both giving and receiving erotic touch, students learn several forms of genital and anal massage. This erotic bodywork often results in trance states. Students also learn to teach this bodywork to couples and groups as a form of lovemaking. Furthermore, students learn neo-Reichian bodywork techniques to free the body's potential for orgasm by releasing muscular "armoring" or constriction.
Muscular, Skeletal, and Genital Anatomy
Anatomy is taught within the context of bodywork demonstrations and sessions.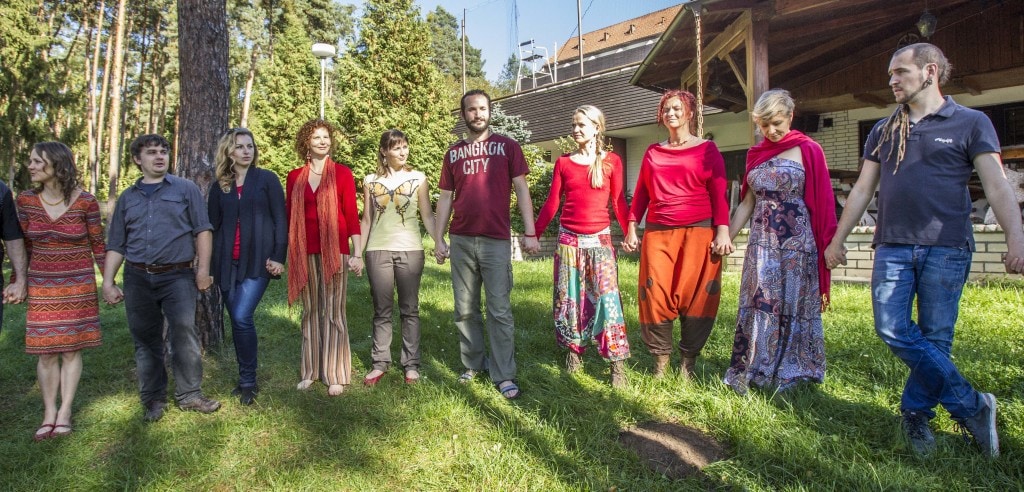 Module III - Supervised practicum - 24th April 2017 - 23rd July 2017
After the Intensive, students participate in four more weeks of group online home study. The assignments and readings focus on teaching with media, successful business practices, and structuring one's learning during the supervised practicum.
Students explore effective use of DVDs, telephone coaching and conference calls, group distance learning, and online websites such as YouTube.com. Setting up a successful Sexological Bodywork practice involves a vision, business plan, promotion, and a supportive network. Students also become familiar with legal issues and professional ethics.
Supervised Practicum 
Students complete twenty-five sessions of Sexological Bodywork with individuals, couples and small groups. Students post reports on their sessions online for the instructors and classmates to read and review. Faculty will offer individual and group supervision in twice monthly phone conferences.
Certificate Award
Upon completion of all requirements, EASE – EUROPEAN ACADEMY OF SOMATIC EDUCATION will award a Professional Certificate in Sexological Bodywork. More about EASE: www.somatic-education.cz/en
The professional training graduates will be allowed to become the members of the ACSB (The Association of Certified Sexological Bodyworkers).
We also welcome those, who are interested in the sexological bodywork, but it is not their intention to use it professionally.
Somatic Sex Education is an area of study full of new ideas. The required (and recommended) readings and viewings are foundational for the profession of Sexological Bodywork. We suggest completing the required readings before the course begins. This will allow more time during the actual training for the practice of erotic bodywork and somatic coaching.
The Erotic Mind by Jack Morin: In German: Erotische Intelligenz
Women's Anatomy of Arousal: Secret Maps to Buried Pleasure: by Sheri Winston
ESSAYS
(Free online)

Somatic Education: its Origins, Ancestors, and Prospects by Edward W. Maupin, Ph.D.

Clinical Somatic Education: A New Discipline in the Field of Health Care by Thomas Hanna Ph.D.

Pointers for Sexual-Spiritual Practice by Barnaby Barratt Ph.D.

A Social History of the First Ten Years of the Taoist Erotic Massage by Joseph Kramer Ph.D. or Eine Sozialstudie der ersten zehn Jahre Taoistischer Erotikmassage by Joseph Kramer Ph.D.
RECOMMENDED FILMS
Enrolled students are required to view, study and practice over twelve hours of erotic teachings from over twenty-five different educational DVDs. All of these required video lessons can be streamed or downloaded through The New School of Erotic Touch. Enrolled students' online video study will be guided by the course work book and in class phone gatherings with Joseph Kramer and Isa Magdalena.
Most of the recommended films listed below are available for rent in stores and online. There will be discussion of the films below in the course forums.
Bliss: written and directed by Lance Young starring Terence Stamp
Shortbus: written and directed by John Cameron Mitchell
Sex, Lies, and Videotapes: written and directed by Steven Soderbergh

Resurrection: with Ellen Burnstyn (not available on DVD)

Healing Sex: The Complete Guide to Sexual Wholenes: with Staci Haines (available to stream or download at www.eroticmassage.com)
RECOMMENDED READING

Our Sexuality
by Robert Crooks and Karla Baur (8th, 9th or 10 Edition. Be sure to buy the textbook and not the study guide). This text is the best survey of the biological, psychosocial, behavioral and cultural aspects of sexuality available today. This is an important resource for professional sexologists. Note that the 8th and 9th edition can be purchased very inexpensively.
Passionate Marriage: Keeping Love and Intimacy Alive in Committed Relationships autor: David Schnarch
Touching Enlightenment: Finding Realization in the Body by Reginald A. Ray 
 Read a segment immediately: Touching Enlightenment
Reclaiming Eros: Sacred Whores and Healers by Margaret Wade a Suzanne Blackburn 
 Read chapters about instructors immediately: Isa Magdalena and Joseph Kramer.
Indecent Practices and Erotic Trance: Making Sense of Tantra 
by John Ryan Haule (Jungian analyst)
A list of recommended literature is indicative. All mandatory study texts have been translated into Czech . Participation is thus possible for anyone who understands only Czech and does not speak English 🙂
SB training 2017 dates:
Module I - Online Group Study, Part I: 1st January 2017 - 2nd April 2017
Module II - Embodiment Intensive (Váňův statek): 13th April 2017 - 23rd April 2017
Module III - Supervised Teaching : 24th April 2017 - 23rd July 2017- 25 sessions and classes. Students complete twenty - five sessions of Sexological Bodywork with individuals, couples and small groups
Recommendation: The students get access to online teaching resources after full payment of the course fee.
We highly recommend to start with home study prior to the official start of the course, ideally one month ahead.
Faculty: Joseph Kramer, Ph.D., Denisa Říha Palečková and Richard Vojík plus other Certified Sexological Bodyworkers assisting as personal coaches.
Denisa Palečková and Richard Vojík bring a whole new perspective on intimacy and ways to use this area for health, happiness, love life and personal development. Since 2002 Denisa and Richard helped several thousands of people to more joyfull and fulfilled life with their courses, lectures and articles.
They are particularly famous for their compilation of the holistic sensual massage that quickly spread in the Czech Republic under the name of tantric massage. They are the creaters of a centre for massage and personal development "Tantra Spa Prague":www.tantraspa.cz.
Together with Joseph Kramer, PhD., Denisa and Richard brought from the USA to the Czech Republic a new profession "Sexological Bodywork": www.sexologicalbodywork.cz, with extraordinary effects in somatic education and health. In 2013 they founded the "European Academy of somatic education - EASE": www.somatic-education.cz, in order to offer benefits of the Bodywork to the general public and certified professionals.
Founder and Director of the New School of Erotic  Touch  Joseph Kramer, Ph.D., is the foremost teacher of erotic massage in the world. In 1984, he founded the Body Electric School in Oakland, California, where he trained thousands of professional massage therapists, erotic bodyworkers and somatic educators.  In 1992, he started the Erospirit Research Institute, a think tank exploring the connection between spirituality and sexuality. In 1999, he founded The New School of Erotic Touch.
Joseph founded the new legal profession of Sexological Bodywork in 2003. Professional trainings are now being offered in California, Europe, Canada, and Australia. 
Denisa Říha Palečková
Richard Vojík
Joseph Kramer
Katarzyna Mołas
and Jacek Lejman
"I feel a huge change after the training.
My perception is wider now, I am much more in my body, for example I wake up several times during the night and feel my hands and legs tingling, I enjoy every bite that I eat, every touch I give or get is a celebration of life for me. CET (The Central Erotic Theme) I have found and adopted means an enormous change in my approach to myself. And we have a totally different dimension of honeymoon with my wife! My "rescue" brake was released by the training."
Josef, SB student 2015
"It was amazing and inspiring. Don´t hesitate and go for it!
For yourself, or for others, too.
Silvia Henniger, SB student 2015
 …so I am a CSB – Certified Sexological Bodyworker – from today.
Neither my high school graduation diploma, nor my university degree made me cry, but this one did.
Thank you, Joseph Kramer, Denisa Říha Palečková, Richard Vojík.
Irena Bartošová, SB student 2014
 "My life after the Sexological Bodywork training is fuller, I am satisfied, all the people around me are ill and mad, I am healthy and laughing all the time as my husband says.. With him I am happier than before, by the way... And I am a real vixen now and he grows besides me in his manhood... I am just in love head over heels… to my husband... And all maladies, stress and similar crap I easily fight with orgasmic yoga…"
Magda Komínková, SB student 2014
"What I expected from the training before I went there was to grow professionally but also to grow as a person, to learn how to respect and honor myself and to become a "woman".  I wasn´t sure if all this is possible.. The first days of the training were like a rollercoaster.. Up, down… Then something started to change. Every day I made a small step forward. I started to break down my barriers.. And to open my heart.. My body.. And when I was leaving yesterday, in the bus I felt, that I am breathing to my full lungs, my breath is not shallow anymore… Despite of the fact I was so very tired I found myself smiling.. Just so.. Without any reason... I felt the change that occurred with me actually… I would never suppose the change to be so "visible"!
Today, after the first massage I gave after the training, my client who comes to me for massage regularly for one year already, saw "the new Adriana" just at the door while he was greeting me. He saw a self-confident, shining woman and also the massage was different, as he said. He could feel my openness and confidence…
THANK YOU, THANK YOU, THANK YOU!!!
With love
Adriana, SB student 2015
TUITION: EUR 2900
EARLY BIRD PRICE: EUR 2200 if total amount is paid by 30th September 2016.
PARTNERS/A COUPLE (living in the same household, not only friends): 2500 EUR/person
The tuition fee does not include the costs for Embodiment Intensive for food and accomodation.
Price for accommodation at the Embodiment Intensive at Váňův statek is 5 900 CZK per room without sanitary facilities , 6 500 CZK per room with sanitary facilities , 6 900 for room for 1 person without sanitary facilities or CZK 7 500 per room for 1 person with sanitary facilities (if the capacity allows).
Tuition includes: 
Tuition fee
One-year access to the online forum with assigned homework, platform for communication and access to hundreds of videos and study texts
Participation of founder of the Sexological Bodywork profession Joseph Kramer, PhD., during the whole residential intensive training
Supervision and support during home study before and after the residential training from lecturers and coaches – assistants of the training 
Internationally valid certificate of Sexological Bodyworker, based on successful completion of all requirements of the training
Tuition includes online access to the home study workbook, video demonstrations, and student forums–plus a one-year membership to The New School of Erotic Touch , the major online resource for Sexological Bodyworkers. Tuition does not include room and board for the Embodiment Intensive, text books, or telephone charges for conference calls.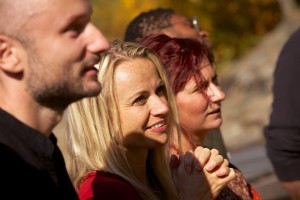 - they pay the full price (for SB training) of EUR 2900……
10-day course 
will be for EUR 720 (instead of 1290)
- they pay the early bird price (for SB training) of EUR 2200……10-day course will be for EUR 960 (instead of 1290)
The discount will be applied retrospectively and the amount will be subtract from the SB payment: EUR 570 (or EUR 330 in case of Early Bird price for SB).
Váňa´s farm- Embodiment Intensive 2015, Module II
Do you have any questions? Contact us at paleckova.denisa (at) gmail.com or +420 777 288 887.
I´ve got a lot of questions. Where can I learn more? You can refer to the section of frequently asked questions here. (in Czech language)
Does Denisa Říha Palečková online happen to be online? You would see a pop-up window in the bottom right corner: Have you got questions?
You can also call our assistant at +420 774 77 66 88 or send an e-mail to dar.info4u@gmail.com.
(you can find more contact information in the Contact section)